Home » Blog » The Dirt ~ The Hurricane Sandy Edition ~ Nov. 1, 2012
Blog
By DirtyOilSands.org
Thursday, November 01, 2012
QUOTE OF THE WEEK
"Last week, Defend Our Coast brought us together like never before as we showed a united and powerful wall of opposition to the expansion of tar sands pipelines and tankers."
~ Digital storyteller, videographer and photographer Zack Embree.
In this issue:
Extreme Energy = Extreme Weather
Shell Canada Pushes Alberta's Tar Sands Past the Tipping Point
Tar Sands Crude Oozes Its Way Around the World
Effects of Defend Our Coast Protests Live On
FEATURE DIRT
Extreme Energy = Extreme Weather
The image of an aging oil tanker stranded on a Staten Island road is a frightening reminder of the relationship between Alberta's tar sands and the harsh realities of a climate-warming world. The John B Caddell, at 712 tons a relatively small oil tanker built in 1941, had been tossed rather unceremoniously up on shore just south of Manhattan by Superstorm Sandy, the largest hurricane ever to hit the Eastern Seaboard.
While it's impossi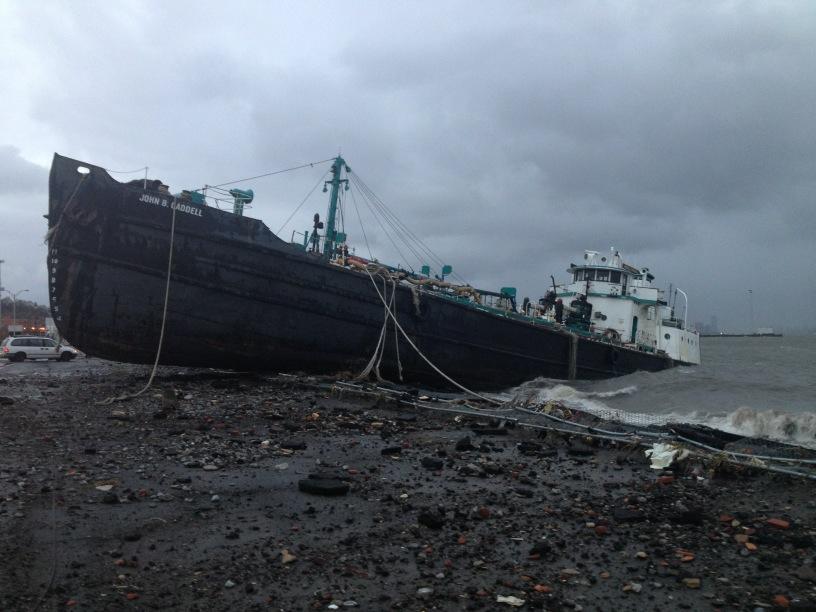 ble to say with any certainty that climate change begat Super Sandy, The New York Times reported that it "should be seen as a foretaste of trouble to come as the seas rise faster, the risks of climate change accumulate and the political system fails to respond."
"We're changing the environment — it's very clear," Thomas R. Knutson, a research meteorologist with the government's Geophysical Fluid Dynamics Laboratory in Princeton, N.J. told The Times. "We're changing global temperature, we're changing atmospheric moisture, we're changing a lot of things. Humans are running this experiment, and we're not quite sure how it's going to turn out."
Meanwhile, as Americans begin the billion-dollar, post-Sandy clean up, an analysis by Oil Change International indicates that tar sands crude production is on a trajectory that will lead to dangerous levels of greenhouse gas (GHG) emissions and correspondingly severe climate change that very likely will include extreme weather events – drought, storms and wildfires – as well as sea level rise and other nasty consequences.
According to Oil Change International's Lorne Stockman, tar sands production is ramping up so quickly that it already has enough projects in the pipe to surpass the International Energy Agency's (IEA) plan to keep warming below two degrees Celsius nearly three times over. According to the IEA, we need to keep oil production capacity below 88 million barrels per day (bpd) by 2020.
According to the IEA's models, tar sands production cannot exceed 3.3 million bpd if we are to keep atmospheric carbon at 450 parts per million, which gives us a 50 per cent chance of keeping the climate below the two degree Celsius threshold agreed to by the international community at the 2009 Copenhagen climate conference.
Tar sands production capacity is currently at 2.28 million bpd, but the tar sands industry has over 7.1 million bpd of projects proposed and under construction. While depletion at existing projects will reduce the overall figure, this could potentially raise production to around 9 million bpd. Of course, critics will say that not all of that oil will actually be produced, but a large proportion of what is in the ground can be recovered, so whatever the realistic figure for production capacity, it is likely still very high, and certainly beyond any safe climate scenarios.
If the IEA's models are correct, such rapid production of tar sands crude would be a dangerous part of an overall scenario that would increase average global temperatures by six degrees Celsius by the end of the century, which the IEA insists would lead to, "massive climatic change and irreparable damage to the planet."
It is for this reason, and numerous others, that there is a growing chorus of voices opposing further tar sands development, and the pipelines and supertankers that will deliver its dirty crude worldwide. Given the astronomical risk that tar sands-fuelled climate change poses, it's surprising that climate change has been all but absent from the U.S. presidential debates.
Only Green Party presidential candidate Jill Stein has been strident on this issue – and she was arrested for entering the debate grounds at Hofstra University while attempting to resupply protesters camping out in trees to oppose the Keystone XL pipeline. In a statement released before her arrest, the 62-year-old physician, who looks the part of a smart, kindly grandmother, said that "the climate is taking this election by storm, breaking the silence of the Obama and Romney campaigns that have been bought and paid for by the oil, coal and gas companies. Hurricane Sandy is just a taste of what's to come under the climate destroying policies of Romney and Obama.'"
And, it would seem, Alberta Premier Alison Redford and Canadian Prime Minister Stephen Harper.
New York Governor Andrew Cuomo, however, seems to get it. As Super Sandy ravaged the state that elected him, he took time out from crisis management to tell Channel 7 that "Extreme weather is here to stay." Cuomo, at least, understands that human activities are a big reason that extreme weather events are becoming commonplace. How much worse it will get depends mostly on what we do to rapidly reduce the burning of fossil fuels.
Perhaps that's Sandy's silver lining. According to Grist, "the scale and destruction of Hurricane Sandy has made the issue of climate change impossible to ignore. It's as if the media and politicians are at last free to discuss something they have been keeping secret."
We can only hope.
CLEANING UP DIRTY TAR SANDS
Shell Canada Pushes Alberta's Tar Sands past the Tipping Point
First Nations in the tar sands region just can't get no respect. The Alberta-Federal Joint Review Panel (JRP) for Shell Canada's Jackpine Mine expansion rejected the Athabasca Chipewyan First Nation's (AFCN) constitutional challenge against the project, because it didn't have jurisdiction on questions of constitutional law.
And according to The National Post, when the AFCN asked the panel to halt the hearings while it files an appeal with the Alberta Court of Appeal, the Alberta government and Shell Canada both argued that "halting the hearing would lead to unfair and lengthy delays."
Unfair? What's unfair is the out-of-control tar sands development that is taking place in the AFCN's traditional territory, which, the AFCN argues, prevents it from its constitutionally protected rights to fish, hunt and continue its traditional lifestyle on its lands, which were guaranteed under a treaty signed on June 21, 1899.
Meanwhile, a coalition of environmental groups has asked the JRP to reject Shell's project outright, because of its significant adverse environmental effects. The Oil Sands Environmental Coalition —comprised of the Pembina Institute, the Alberta Wilderness Association and the Fort McMurray Environmental Association, and represented by Ecojustice — argues that the company's environmental assessment shows that expanding the Jackpine tar sands mine, along with other planned developments in the region, will harm fish and wildlife, damage wetlands and old growth forests, exceed legally binding air quality limits and cause acid rain. It will leave a legacy of toxic waste buried in lakes, damage two significant rivers, and produce greenhouse gas pollution that will put Canada's and Alberta's climate targets further out of reach.
"When we consider Shell's proposal in the context of all the other industrial activity currently taking place or planned for the oilsands region, it's clear we're at a crossroads," said Simon Dyer, policy director at the Pembina Institute. "The environmental impact assessment for this project offers the clearest indication we've ever seen that the cumulative impacts of planned oilsands development are just too high to be considered responsible."
That, and the constitutionally protected rights of Aboriginal people who signed a treaty in good faith 113 years ago, long before the Alberta government laid claim to the boreal forest and its accursed bitumen.
Tar Sands Crude Oozes Its Way Around the World
Andrew Nikiforuk was prescient when he wrote his award-winning Tar Sands: Dirty Oil and the Future of a Continent, but it turns out he was not quite grand enough in his speculations. Turns out, it's not just North America's future that will be forever altered by the pervasive influence of tar sands crude — it's the whole world's.
As we have written before (and often), tar sands development proposals, bitumen pipeline proposals, and heavy oil refinery proposals have sparked opposition everywhere Alberta's dirty oil has come knocking – B.C., Ontario, Vermont, Maine, Montana, Texas, and now Pembrokeshire, United Kingdom.
Pembrokeshire is a bucolic, maritime county on the western tip of Wales. Surrounded on three sides by the great blue ocean, the coastline is home to internationally important seabird breeding sites, numerous bays, dozens of internationally recognized sandy beaches, and the Pembrokeshire Coast National Park, the only coastal national park in the United Kingdom — and two oil refineries and two large liquefied natural gas terminals.
Not surprisingly, given its Nova Scotia-like geography, the Pembrokeshire economy was once dominated by fishing, but today, oil and gas have replaced salmon and sea trout as the region's economic engine. Soon, tar sands crude will be a growing part of Pembrokeshire reality, and not everyone is pleased about the arrival of Alberta's dirty oil.
A new report published by UK Tar Sands Network, Corporate Watch and Pembrokeshire Friends of the Earth reveals that U.S. energy company Valero is expecting to bring increasing quantities of tar sands oil to locations around the UK, including Pembrokeshire, Wales. According to the report, Tar Sands Coming to Town, Valero purchased a Pembroke refinery in August 2011 as part of its plans to increase diesel exports to Europe, particularly the UK and Ireland. The company plans for a rapidly growing portion of this diesel to originate from Alberta's tar sands.
The report was launched at a public meeting in Pembrokeshire on October 30, 2012, as Superstorm Sandy devastated the Eastern Seaboard. Member of European Parliament Jill Evans and Emily Coats from the UK Tar Sands Network spoke to concerned residents about the dangers of tar sands expansion.
"Tar sands extraction is devastating the environment, destroying indigenous people's lives and livelihoods, and locking us into a future of catastrophic climate change," said Emily Coats from UK Tar Sands Network. "We need to block off new markets for tar sands oil in order to slow the dangerous expansion of this industry and encourage investment in renewable energy. We in the UK must say no to tar sands coming to our towns."
Back in the U.S., Marathon Petroleum Co.'s refinery in an economically distressed pocket of southwest Detroit emitted a huge dose of pollution as the company finishes a $2.2 billion expansion that will allow it to process more high-sulfur Canadian tar sands oil.
"The smell, it was like this burning tar, with that benzene and that sulfur," said resident Theresa Shaw. "I wanted to scream."
According to Mother Jones, the conflict in southwest Detroit is "one piece of a larger environmental struggle being waged in communities nationwide." Oil companies are increasingly focused on increasing refining capacity for heavier, dirtier crudes, much of it from the Alberta tar sands. But residents in already polluted neighborhoods from the Great Lakes to Texas are watching carefully and even pushing back against the potential impacts of Canada's dirty oil.
"This has all been done very quietly in the regulatory backrooms, and people aren't aware of it," Josh Mogerman, who tracks developments related to tar sands for the Natural Resources Defense Council, told Mother Jones. "These refineries have a lot of problems, and it's hard to believe that's going to get better by moving to process one of the dirtiest fuels on the planet."
We wrote last week that Canada's National Roundtable on the Environment and Economy (NRTEE), in its final shot across the bow, concluded that "Canada needs a low-carbon [economic] growth plan," which doesn't exactly jive with rapidly expanding tar sand development. Not so much the Conference Board of Canada (CBC).
In its latest report, Fuel for Thought, the CBC borrowed Prime Minister Stephen Harper's briefing notes and went out of its way to extol the economic benefits of Alberta's tar sands for the whole country. But according to a Pembina Institute op-ed in iPolitics.ca, "the Conference Board's report offers a starry-eyed view of the economic benefits of oilsands development, but comes up short on examining the other side of the balance sheet."
For instance:
The economic cost of tar sands development. Many economists are also predicting a massive shortage of skilled labour in Alberta, driving wages even higher and pushing down profitability and expansion forecasts. Significantly higher costs in the tar sands push up the price of doing business in Canada across the entire economy, making it tougher for all Canadian companies to compete internationally.
For some companies, a rising dollar also makes it tougher to compete. A higher dollar helps to make foreign-priced goods less expensive for Canadian buyers, but it also makes Canada's exports more expensive on the global market. Even the CBC knows that. Back in 2010, the Conference Board of Canada warned the "conditions for Dutch disease are already occurring in Canada" and that doing nothing creates a "much greater risk of contracting a serious case of Dutch disease."
Although neither the CBC nor Pembina mentioned it, there's also the very real costs associated with the manifold serious social and environmental problems caused by rapid tar sands development.
So when you do the math, the pot of gold at the end of the tar sands' dark rainbow ain't as big as you might think. Just ask the NRTEE, which wasn't funded by Industry Canada and the Government of Alberta a flattering portrait of the king.
CLEANING UP DIRTY PIPELINES
Effects of Defend Our Coast Protests Live On
The aftershocks of the Defend Our Coast protests are still being felt all over B.C. As local newspapers continue to report on the historic event, people are still talking about how empowering it felt to have a strong, unified voice on the future of B.C.'s wild West Coast.
"Last week, Defend Our Coast brought us together like never before as we showed a united and powerful wall of opposition to the expansion of tar sands pipelines and tankers," wrote digital storyteller, videographer and photographer Zack Embree. "12 000 of us joined protests in Victoria and in 70+ communities all across British Columbia to show our elected leaders that citizens are passionate and powerful, and will do whatever it takes to stop Big Oil and bullying governments from pushing their worst projects against our will."
Meanwhile, two video representations of the protests make a similar point in two distinctly different ways. An inspiring doc about the Defend Our Coast protests celebrates the courage and tenacity of the people who came out in droves to "show our province's unbroken wall of opposition to tar sands, pipelines and tankers."
This Hour Has 22 Minutes, however, took a different tack. It sent roving reporter Scott Vrooman to figure out why "these anti-progress tree-fondlers refuse to drink from the cup of prosperity." Turns out, no one seemed to care about money the way Vrooman's tongue-in-cheek, oil-drinking, neoliberal character did. "Money is only an imaginary representation of wealth," said one protestor. In the end, Voorman concluded, with a wry wit, that "Nothing is more important than growth. We have grown our way out of recessions, and we will grow our way out of the planet's inherent limits."
Not if Defend Our Coast and the people of B.C. have anything to say about it.
Poor Enbridge. As if it didn't have enough to worry about. Province-wide protests against its Northern Gateway pipeline proposal, First Nation opposition, a review process that has raised more questions than answers, a B.C. premier who seems closer to opponents than proponents, and the legacy of its abysmal safety record.
Now it has to deal with the threat of earthquakes.
A powerful, 7.7 earthquake shook Canada's West Coast last week, leading to a tsunami warning and a tidal wave of questions about the how seismic activity in B.C. could create a pipeline disaster similar to the one in Kalamazoo, Michigan.
"I was in a pub with friends when it happened," Ben West of the Western Canada Wilderness Committee told the Vancouver Province. "Imagine this hitting a pipeline or slamming into loaded oil tankers."
Is building a massive new pipeline and supertanker port in the most earthquake-prone part of the country a good idea? It's a good question, and one that Enbridge seems ill-equipped to answer.
"After their Keystone Kop performance in response to the Michigan tar sands spill, their credibility is weak," wrote Greenpeace's Keith Stewart. "Their recent testimony on spill prevention and response hasn't done anything to boost confidence in their ability to deal with earthquakes."
The oil industry (and the federal government) may be willing to take this kind of a gamble to realize their dreams of quadrupling the size of the tar sands industry in northern Alberta, but if British Columbians weren't opposed to Enbridge's risky pipeline before the quake (and the effects of Superstorm Sandy), it may have shaken some sense into them.
Tagged with: climate change, enbridge, copenhagen, northern gateway, pembina institute, natural resources defense council, greenpeace, british columbia